Hello Crypto Miner and welcome to withdraw guide! 💰

In this article we will guide you through the process of in-game withdrawal (Polygon Network) and what you need to do in order to claim your Hora Tokens.

Don't worry, the process is quite easy and intuitive.

Before we start anything, please update Crypto Idle Miner to the latest version! In-game withdraw option is available with the 1.22 version!
Withdraw steps
Hora Tokens are earned by progressing through the game which leads to better position on the Leaderboard. Your position on the Leaderboard determines the number of tokens you earn each week.

To find out more about the Leaderboard token distribution system, please read this article.

1st step - Go to User Profile (image 1)
2nd step - Tap on Withdraw button (image 2)
3rd step - Complete Withdraw Panel (image 3)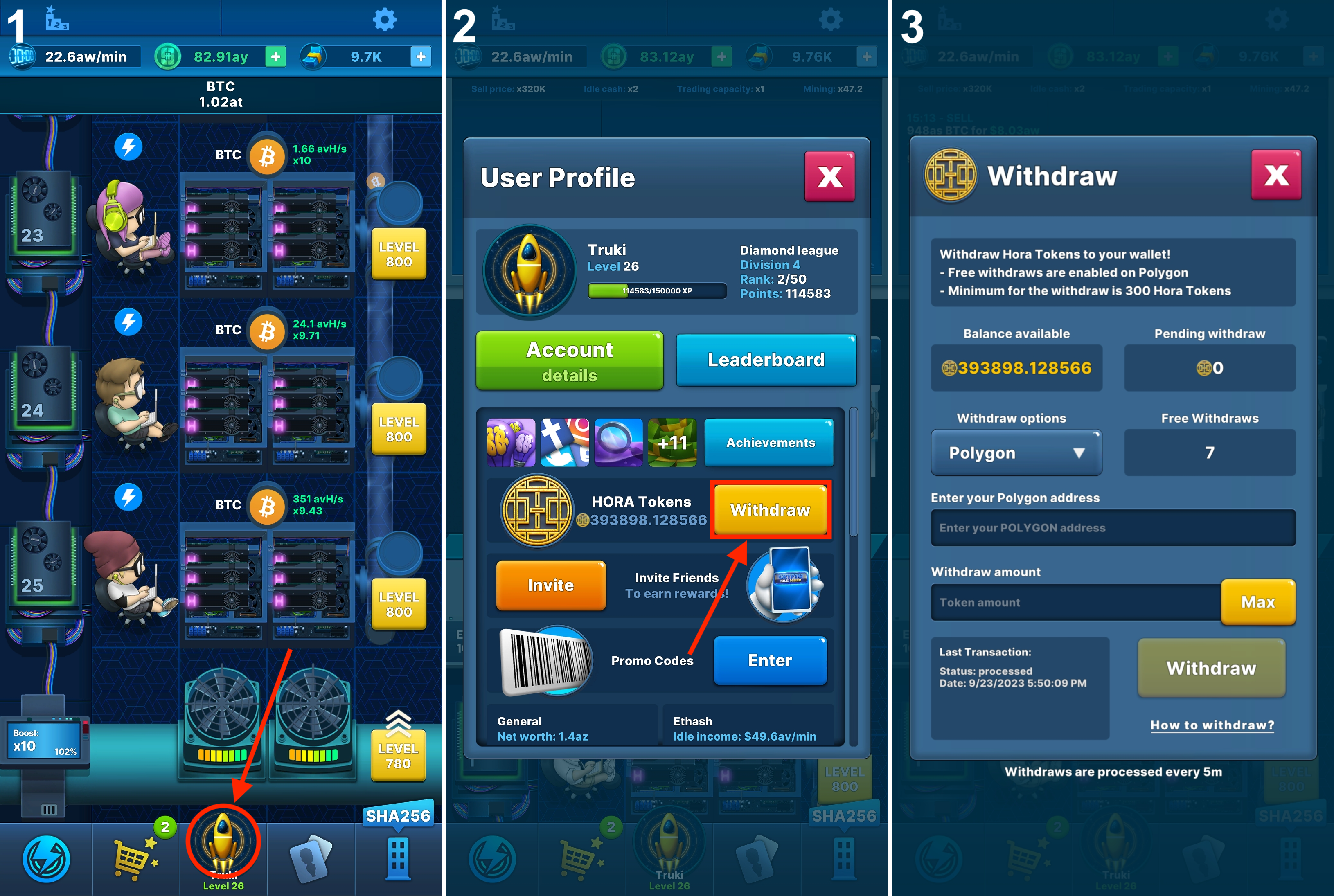 The withdraw panel is composed of the following elements:
Balance - displays your amount of Hora Tokens
Pending - the status of your current transaction
Withdraw option - here you can choose the network of your preference. For now, you'll be able to choose Polygon
Address - enter your wallet address here
Withdraw amount - how many tokens you wish to withdraw
Transaction details - all information about the last transaction you made
Supported wallets: MetaMask, Trust Wallet, Rainbow, or any other EVM-compatible wallet

Have in mind that all transactions will be completed within 5 minutes.

Hora Token is currently available on Polygon and BSC networks. In the game, you can withdraw your tokens for free to the Polygon network. Alternatively, you can choose to use Hora Hub for withdraws, which offers options for both free and paid withdraws to Polygon and paid-only withdraws to BSC.

And that's it, tokens will be on your end shortly!
Hora Token Polygon Info
Name: Hora Token
Symbol: HORA
Contract addresses: 0x60b4C9390bb3eAa726Bdae2CAE412efE3b2a9C31
Decimals: 6

PolygonScan:
https://polygonscan.com/token/0x60b4c9390bb3eaa726bdae2cae412efe3b2a9c31
DexScreener (chart):
https://dexscreener.com/polygon/0x0748ee9eafaee8bbfb591cd06f4231ef8d908f07
Uniswap v3 (exchange):
https://app.uniswap.org/#/swap?outputCurrency=0x60b4c9390bb3eaa726bdae2cae412efe3b2a9c31&chain=polygon
Hora Token BSC Info
Name: Hora Token
Symbol: HORA
Contract addresses: 0x64e21979539e7862d6e947cdc956c2570D5219Ef
Decimals: 6

BscScan:
https://bscscan.com/address/0x64e21979539e7862d6e947cdc956c2570D5219Ef
DexScreener (chart):
https://dexscreener.com/bsc/0xc8126888aa45917c3ec04534069d92dd9da7daf6
PancakeSwap (exchange):
https://pancakeswap.finance/swap?outputCurrency=0x64e21979539e7862d6e947cdc956c2570d5219ef&chainId=56

You may need to add Custom Token to Uniswap/PancakeSwap, so please use the official contract addresses.

DO NOT USE THE CONTRACT ADDRESS AS A WITHDRAWAL ADDRESS, IF YOU DO THAT, YOU WILL LOSE ALL OF YOUR TOKENS! THERE IS NO WORKAROUND!

If you need help with the wallet creation process, then please continue to the next article.